Vietnam, Cambodia & the Riches of the Mekong … AmaWaterways – AmaDara
On this itinerary, you will enjoy an extensive lineup of included tours. We include a large variety of activities so that you can choose how you want to explore. No matter your preference, your days will be full of discovery and wonder. Luxury all-inclusive cruise.**
August 19 – 28, 2017 CRUISE ONLY                                                                 $2,059 + Air
August 19 – 31, 2017 CRUISE W/3 NIGHTS SIEM REAP POST-CRUISE       $2,858 + Air
7-NIGHT CRUISE
DAY 1    AUGUST 19                         Depart the USA
DAY 3    AUGUST 21                         HO CHI MINH CITY – EMBARKATION
Today you will board your river cruise ship moored at My Tho Port (Please arrive at the airport before 10 a.m. to avoid any potential missed connections to the ship). Meet your fellow travelers at a Welcome Dinner as the ship cruises to Cai Be. (L, D)
DAY 4    AUGUST 22                         CAI BE – SA DEC
After breakfast, take an excursion in a local boat around Cai Be to see the spectacular floating market. You will also have an opportunity to visit candy and rice paper workshops or, alternatively, see the historic Keit house. An afternoon excursion takes you to Sa Dec, a sprawling town on the Mekong Delta, where French writer Marguerite Duras spent part of her childhood. You will visit the local market, Cao Dai Temple and the house of Mr. Huynh Thuy Le, Duras' Chinese paramour. The ship sails overnight to Tan Chau. (B, L, D)

Day 5    AUGUST 23                         TAN CHAU – BORDER CROSSING
This morning, you'll visit Tan Chau, a small Mekong River town unspoiled by tourism. You will have the opportunity to take one of two tours this morning. Your first option to is take a traditional "xe-loi" (trishaw) ride around the town, with stops at a silk-making, slipper and rattan mat workshops. Alternatively, you will take a boat ride through the narrow channels of the Mekong River to several scenic locations, including a small village known as "Evergreen Island." Return to Tan Chau, where you will visit a workshop that makes rattan mats in the village. You will cruise to the Cambodian border after lunch, stopping for border formalities. The ship continues sailing overnight to Phnom Pehn. (B, L, D)


Day 6    AUGUST 24                         PHNOM PENH, CAMBODIA
The ship cruises into spectacular Phnom Penh, the capital of Cambodia, early this morning and docks at the terminal. This morning you will take an excursion to Cambodia's infamous Killing Fields and also visit the Khmer Rouge's grim Tuol Sleng S21 detention center (Genocide Museum) just outside the city. After lunch on board, your afternoon tour explores the highlights of the city, famous for its French colonial architecture, busy cafés and colorful nightlife. Visit the Royal Palace, the spectacular Silver Pagoda and the National Museum, which has an outstanding collection of Khmer crafts. After returning to the ship, enjoy Khmer folk dancing performed by local children in the Saigon Lounge. The ship will moor overnight along the waterfront, close to restaurants and Phnom Penh's vibrant nightlife scene. (B, L, D)

DAY 7    AUGUST 25                         PHNOM PENH – KOH CHEN
The morning is free to explore Phnom Penh on your own, perhaps venturing to nearby shops and markets for some souvenir hunting or an opportunity to take a Tuk Tuk tour through the city. In the late morning, the ship continues to Koh Chen, where you will take a leisurely walk through the village and visit home workshops specializing in silversmithing and coppersmithing. (B, L, D)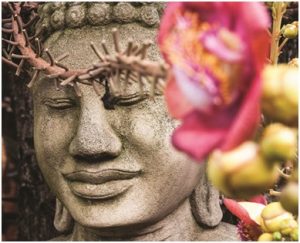 DAY 8    AUGUST 26                         OUDONG – KAMPONG TRALACH
Your will have a truly memorable day today, starting with a short motor coach ride to Oudong, the former capital of Cambodia. Visit a Buddhist monastery and receive a special blessing. In Kampong Tralach you will enjoy an oxcart ride through the rice paddies surrounding a small village. (B, L, D)
DAY 9    AUGUST 27                         KAMPONG CHHNANG – TONLE SAP LAKE
This morning you will take a motorboat to explore the lakeside wetlands that form around Tonle Sap Lake, the great lake that dominates Cambodia and is known for its stunning variety of bird life and tranquil floating villages. This evening, enjoy a Farewell Dinner on board. ( B,L,D)

DAY 10  AUGUST 28                         PREK KDAM – DISEMBARKATION
Your cruise comes to an end as you disembark at Prek Kdam, a small village on the Tonle River. (B) Note: We recommend that you schedule your onward flight to depart after 7:00pm today to avoid potential missed connections.
 OPTIONAL – 3 NIGHTS SIEM REAP POST-CRUISE

DAY 10  AUGUST 28                         PREK KDAM – DISEMBARKATION – SIEM REAP
Your cruise comes to an end as you disembark at Prek Kdam, a small village on the Tonle River. After disembarking, transfer by motor coach to Siem Reap, the gateway to Angkor and the former capital of the Khmer empire. After checking in to your hotel, the rest of the day is yours to spend at your leisure. Tonight, you will enjoy a special "Apsara Dancing Show" at your hotel, featuring local Cambodian/Khmer folk dancers. (B)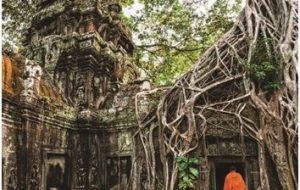 DAY 11 AUGUST 29                         SIEM REAP – ANGKOR
After breakfast, you will have a guided sightseeing tour of the Angkor Archaeological Park, a UNESCO World Heritage Site. Highlights include Angkor Thom, the newly restored Baphuon Temple, Terrace of the Elephants, and the Terrace of the Leper King. You will also see the Bayon Temple, best known for its gigantic smiling stone faces. This afternoon, travel through the rural countryside to visit the pink sandstone temple of Banteay Srei, the "jewel of Khmer art." Afterwards, you will visit an English-language school sponsored by AmaWaterways in a nearby village. (B)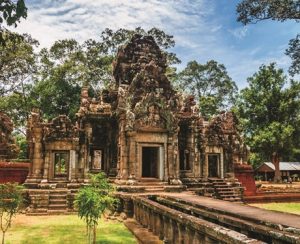 DAY 12  AUGUST 30                         SIEM REAP – ANGKOR
This morning you will visit the most iconic of all Angkorian temples, Angkor Wat. This intricate and massive temple complex was built by King Suryavarman II in the early 12th century to honor the Hindu god, Vishnu. The temple stands as a masterpiece of Khmer architecture. Afterwards, visit nearby Ta Prohm, known as the "Kingdom of Trees" for the way in which the temple stones have become intertwined with thick forest vegetation over the centuries. (B)
DAY 13  AUGUST 31                         DEPART SIEM REAP
Transfer to Siem Reap airport for your return flight home. (B)


AmaDara OVERVIEW
The brand-new 124-passenger AmaDara (2015) features Luxury Suites (502 sq. ft.), Suites (366 sq. ft.) and spacious standard staterooms (251 sq. ft.), all of which have private Twin Balconies (French Balcony plus a full size step-out balcony). The ship's elegant public areas include two stylish restaurants serving delicious cuisine, an inviting lounge, a fitness room, hair salon, three spas and a refreshing Sun Deck swimming pool.
Technical Data
Built 2015
Built in Vietnam
Length                  302 ft.
Width                    46 ft.
Crew                     52
Staterooms        62
Suites                    14
AmaDara
DECK PLAN
Pink       Luxury Suites
Blue       Suites
Green   Category A
Orange Category B
Yellow   Category C          Sold Out
Sadec (Sun Deck)             Front:    Navigation Bridge, Bar, Sun Deck & Pool
Rear:     Sadec Spa & Fitness Room
Saigon (Upper Deck)      Front:    Saigon Lounge & Bar, Reception, Public Computer & Gift Shop
Rear:     Saigon Spa & The Chef's Table Restaurant
Tonle (Main Deck)           Front:    Mekong Restaurant
Mekong (Lower Deck)   Hair Salon & Crew Cabins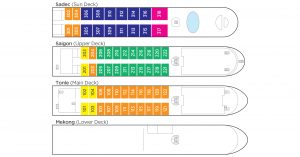 What's included on AmaWaterways AmaDara Cruise
SPACIOUS STATEROOMS
7 nights luxury accommodation in a twin-balcony stateroom
Flat-panel screen that features in-house movies
Mini-fridge, desk and sitting area
Bottled water replenished daily
AN ARRAY OF AMENITIES
Personalized service from a highly trained Cruise Manager during both cruise and land programs
Sun deck with pool
Fitness room and two spas
Saigon Lounge with panoramic views and bar
Bottled water in every stateroom replenished daily
Daily entertainment including cultural performances
Non-smoking environment (smoking only permitted in designated areas.)
AWARD-WINNING DINING
Fine dining with all meals included during your cruise in a variety of venues
Regionally inspired cuisine made with locally sourced ingredients
The Chef's Table specialty restaurant
Welcome Cocktail and Dinner
Farewell Dinner
Unlimited wine with lunch and dinner on board
Complimentary local beer, house-brand spirits and soft drinks during cruise
Snacks and refreshments served daily in the Main Lounge
A WORLD OF EXPLORATION
Immersive tours and excursions in every destination
Special highlights on board including folklore dances and music performances, culture discussion forums, theme dinners and piano entertainment
Gentle, regular, active and late-riser tour options
Knowledgeable guides
Personal headset for easy exploration
Airport transfers with purchase of air from AmaWaterways
What's included in Siem Reap Post-Cruise Package
Sofitel Angkor Phokeethra Golf & Spa Resort (Siem Reap, Cambodia) Sofitel Angkor Phokeethra offers top quality accommodations close to the magnificent temples of Angkor Wat. The hotel elegantly combines Khmer and French architectural design, and features landscaped gardens, five restaurants and bars, a spa and the largest free-form swimming pool in Cambodia. The resort also boasts a world-class 18-hole golf course at the Phokeethra Country Club, a 25-minute drive from the hotel.
3 nights hotel accommodation at the Sofitel Angkor Phokeethra Golf & Spa Resor (or similar)
Daily Buffet Breakfast
Entrance fees as per itinerary
Option 1 Pricing
7 Day Cruise                                   August 19 – 28, 2017
                                                 Double*           Single*
Balcony Cabin (B)                  $2059              $2059                       
Balcony Cabin (A)                  $2359              $2359          
Suites                                     $2859              $2859 
Option 2 Pricing
7 Day Cruise & 3 Nights Siem Reap                       August 19 – 30, 2017
                                             Double*               Single*                               
Balcony Cabin (B)                  $2858              $3257             
Balcony Cabin (A)                  $3158              $3557              
Suites                                    $3658              $4057    
Gratuities          $84        
Deposit            $400
Air from LAX or ATL is running $900 -$1100
Insurance quoted on request.
*Rates include port charges and taxes
**Exclusions: airfare, visas, gratuities, spa treatments, items of a personal nature
 — Rates are based on double occupancy with  Single Supplements waived for the cruise portion of the trip.
–Transfers are included with purchase of cruise and air package.
–Rates are based on a $1000 discount per person promotion that must be booked between January 1st and March 31st, 2017. All rates are based on availability at time of booking.
Additional Notes:
1.Visas are required for both Vietnam and Cambodia.
Visas can be obtained with the assistance of AmaWaterways or they can be done directly through the individual embassies.
If done on your own, the cost is as follows (check with each countries Embassy website for latest information:
Cambodia Visa  $37
Vietnam Visa     $135
2. Single supplements have been waived for the cruise portion of the trip.
3. Insurance is based on cost of the trip.
4. The rates quoted are based on a $1000 per person discount promotion where you must make deposit between January 1st and March 31st.  Rates are subject to change and based on availability at time of booking.   In addition, Single Supplements have been waived for the cruise portion of the trip.  No cabins are being held at this time.
Deposit:                            $400 per person ($200 of that is non-refundable once deposit is paid)
Final Payment:                  May 23, 2017.
Cancellation Policy:                                       
# Days before Departure              Cruise & Land Cancellation Charge           Air Cancellation Charge
(Economy Contract Fares)
| | | |
| --- | --- | --- |
| +121 days prior to departure | $200 | $350 |
| 120 – 90 days | $400 | $350 |
| 89 – 60 days | 35% | $350 |
| 59 – 30 days | 50% | $350 |
| 29 – 7 days | 80% | $350 |
| 6 days | 100% | $350 |
5. Air reservations are Economy Contract Rates and require a $350 non-refundable deposit, balance to be paid with final payment.
6. Mark and I are already booked on this trip; hope you can share this adventure with us!!
7. Pre-night in Saigon is recommended. Must arrive at the Sofitel Saigon Plaza by 11am to register.  Transfer to the ship leaves a 12:00noon.
For More information Contact Kissy Gordon:
Kissy Gordon
Tour Plan International
4915 Fitzhugh Ave
Richmond VA  23230
804 359-3217×321
804 334-9897
k.gordon@tourplaninternational.com
Full Brochure and Registration Form
Credit Card Authorization Form
AmaWaterways School Project in Cambodia
AmaWaterways is a proud sponsor of the ODA (Opportunities of Development thru Art) Free Village English School in the province of Siem Reap, Cambodia. Our financial support helped build the school and we continue to provide funds for teachers' salaries, school supplies and other necessities.
The school brings critical English-language skills to local children and also serves as a community center for nearby residents of all ages. Guests that tour the Angkor Archaeological Park as part of their Mekong River cruise-and-land itinerary have a unique opportunity to visit this school and interact with the children. In fact, many bring their own donations, such as notepads and pencils, to help support the project. Our guests derive much enjoyment from visiting this remarkable part of the world, and many  are very touched by the warmth of the Cambodian people. We have received numerous emails from passengers saying how inspiring it was to be in such a poverty-stricken place, yet surrounded by smiling  children – children who seemed to think they had everything they could possibly want in the world. All of us at AmaWaterways are equally inspired by these delightful children and are honored to be involved with such a worthwhile, life-changing project as the ODA Free Village English School.
HELPING FROM HOME Guests often ask if there is something they can bring from home to donate to the ODA Free Village English School during their visit. If you are interested in making a contribution,  we suggest basic personal hygiene products or school supplies, such as toothpaste, soap, shampoo, pencils, erasers, pens, chalk, small notebooks, Post-It notes, dry-erase markers and highlighters.
Thank You!